While static ads have been the go-to ad format for over a decade, there seems to be growing interest in all forms of advertisement that are anything but static. The impact that video ads have on conversion rates and campaigns is substantial, and there's no point in clinging on to the past. Newer and catchier ad formats are all the rage in the advertising world, and keeping up with the latest trends is the best way to give your ad campaign a competitive edge.
However, regular video ads aren't exactly accessible for all brands. Producing a high-quality video ad is a costly and time-consuming process, and depending on what you're trying to achieve, it can be quite limiting.
The same cannot be said about animated video ads. They're the perfect middle ground between less than captivating static ads and overly expensive video production. If you are looking for a way to boost your campaign performance without overspending, but feel like static imagery just doesn't cut it anymore, then animation is your ticket to success.
Why motion works better than static imagery
Our brains are calibrated in ways we don't yet fully understand, but we do recognize the similarities and patterns in how humans register and process information. One common behavior found is a tendency to register motion far more intently and keenly than static objects or characters.
What's probably a basic survival instinct is all the leverage that modern digital advertising needs to achieve more conversions from each ad campaign. Have no doubt about it — the data is in all major ad networks and social media platforms, and it undoubtedly suggests that motion ads are the superior format.
However, our aptitude for noticing movement is not the only reason why we love motion ads. Simply put, motion ads allow us to pack more information into the same amount of space that a static image would take up. Why not think economically and use the limited space available more optimally? Motion ads can tell entire stories (and look good while doing it) while using up about the same amount of your viewport.
There's also something that's inherently soothing about motion ads. Of course, it depends on the design of the ad creative, but animation tends to calm us down and give us a sense of security and familiarity. If there's anything that brands are always after, it's familiarity and comfort.
Beyond these slightly more complex, and in some cases, psychological reasons, animating ads is both time and cost-effective. With a proper skillset and some tools, animating gifs is only a bit more demanding than coming up with unique and outstanding static ad creatives. As you'd expect, it's also far more convenient and flexible than shooting actual videos with live actors, a makeup crew and all the other personnel required for such an undertaking.
Here's how you can use motion ads to your advantage
There's so much that can be done to captivate your audience's severely limited attention spans that it can be difficult to choose a place to start.
Probably the most obvious use of motion ads is to demonstrate what a product or a service could do, or as Facebook would put it, demo in motion. Showing what a product looks like on a person or how it's used is the perfect place to start your journey through motion ads.
Stop motion animation was old news, until it found a new life in digital advertising. Brands have found a way to leverage stop motion animation to tell entire stories and get their audiences engaged. It's a quirky and fairly underused method of advertising, so well worth a shot.
Similarly, kinetic or animated typography is a perfect way to send a message across or persuade the users to take an action. It's one of the best ways to integrate a call to action in your motion ad.
Anyone who's ever used a video editor knows how limitless your possibilities are with special effects. Naturally, you don't want to go overboard with zoom-ins and fade-aways, but they're interesting animations to incorporate in your next motion ad.
Likewise, looped videos are always fun to watch and an excellent way to get your audience to watch your ad on repeat without even knowing it.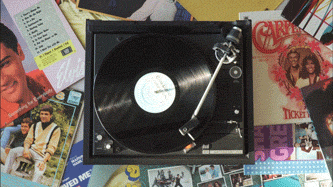 Few animations feel more unique and well-thought-out than cinemagraphs. If you want an ad where only one portion of it is in motion while the rest is static, then your options are boundless. Cinemagraphs allow you to integrate motion ads in an unobtrusive manner that's reminiscent of the static ad days.
Last but not least, cartoon or cutout ads are perhaps the most soothing and relaxing motion ads. Using ads such as these, you're likely to put your audience's minds at ease and have them experience your brand in a more positive and benevolent light.
Final thoughts
There's no doubt as to whether motion ads are the better option nowadays. The only questions you have to ask yourself are how willing are you to get creative and which approach should you take.
It's a conversation worth having with your team in order to find a medium that best conveys your core values to your target audience. After all, there's no boosting your campaign performance without familiarizing your brand with the people you're hoping to reach.