So, you're ready to become an affiliate marketer. Congratulations — you've got a long (and potentially very lucrative) journey ahead. But before you start raking in the cash, you have a big decision to make: choosing an affiliate marketing program.
Picking the wrong programs — or at least choosing without considering all the options — can lead to spinning your wheels and failing to make progress.
I'm Brandon Carney, and I've been making money with affiliate marketing programs for over 16 years. Today, I'll be your personal guide, walking you through your best options for affiliate marketing programs in 2023. I'll let you know the pros and cons of this year's top choices and an overview of what each can offer. In addition, I'll give some professional advice on how to find the perfect program for you — and how to get started with affiliate marketing on the right foot.
Read on to discover everything you need to know about the best high paying affiliate marketing programs. Enjoy!
How To Find "The One" Perfect Affiliate Marketing Program
Your affiliate business is one of a kind. That means what works for someone else won't necessarily be the best choice for you. To find an affiliate marketing program that fits your specific needs, it's important to do the research and analyze the pros and cons of each.
Luckily, I've done the heavy lifting for you. I'm offering you my not-so-secret methods on finding the perfect affiliate program to skyrocket your business success.
Below is my full updated list of the top rated affiliate marketing programs for beginners in 2023. After reading this article, you should have everything you need to choose the perfect program.
Before diving in head first, there's one thing you should understand: affiliate programs and affiliate networks are not the same.
affiliate programs and affiliate networks are not the same.
When I first started as an affiliate, I didn't understand the difference between these two. So, I'll make it loud and clear right off the bat. An affiliate program is a single merchant who owns an online store and is offering an opportunity for affiliate income. An affiliate network, however, is an aggregate of countless affiliate programs from many different businesses.
This leads me to my first pro tip for ALL new affiliate marketers, "Sign up for an affiliate network, NOT an affiliate program!"
Sign up for an affiliate network, NOT an affiliate program!
Instead of painstakingly searching for 20 or 30 individual affiliate programs, it's far easier to join a network with tons of programs included. Joining a network is like catching a hundred fish (or in this case, dollar bills) with a net instead of slowly catching them one at a time with a fishing rod.
Not only do you get better results but you also save yourself a whole lot of time and effort.
Now that that's settled, here's the four best ways to find affiliate programs.
How to Search for Affiliate Marketing Programs
#1: Google it
That's right… good ol' Google is a fantastic resource for finding top affiliate marketing programs to join. I recommend searching "best + [your niche] + affiliate programs" to see what comes up.
Or, you can use ChatGPT, although I haven't tried this method — I'm old-school and not ready to embrace the robots quite yet! 🤖
#2: Join an Affiliate Network
As I mentioned above, joining an affiliate network is your best bet if you're looking to save time and energy. In a network, you'll see a whole list of products from business owners, each of which is fair game for earning profit as an affiliate. Personally, I've had great past experiences with networks like Maxbounty, AdCombo and A4D.
If you're interested in going the network route (which I highly recommend!) keep reading, as I'll give you some great examples in the list below.
#3: Apply to an Existing Marketing Affiliate Program
Not every merchant lists their products on affiliate networks. So, if you're looking for a specific program, you may have to go to the merchant directly. Many businesses have a link at the bottom of their website for affiliates or a place you can apply to their program. If not, it doesn't hurt to reach out with an email or direct message.
But what if a business has high quality products without an affiliate program? Well, if you see true selling potential, let them know. Take some time to establish a relationship and see if you can set up a referral system for each sale you bring to them.
Another benefit of going to a business directly is cutting out the middleman. When using an affiliate network, the network itself will take a percentage of your earnings. But when you build a strong relationship with a merchant, you can keep the network out of it and the profits for yourself.
#4: Attend Affiliate Marketing Conferences
Attending industry conferences is a great way to find potential merchants and affiliate programs. Some great options are Affiliate Marketing World and Affiliate Summit.
Many of the most lucrative opportunities in my career have been from word of mouth, so taking the time to form in-person relationships is well worth it.
How To Vet Affiliate Programs
Most affiliate programs are legitimate and beneficial for both parties, but there are some bad eggs out there. That's why it's important to vet programs and separate the good from the not-so-good. Here's how to tell whether an affiliate program is safe to join.
Get on the Internet Forums
The best way to vet programs is by gauging public opinion on internet forums. AffiliateFix is one forum I've used many times before, and it's a great community of friendly and helpful affiliates. R/AffiliateMarketing on Reddit is also a fantastic resource.
Many of the people on these forums have been in the game for a long time like me and have seen the good, the bad and the ugly. So, if you have a question about a certain program, you'll get an answer based on real personal experience.
Ask These 3 Important Questions
If nothing else, be sure to ask three questions before getting involved in any affiliate program. It's best to avoid businesses with a shady past and products that may be harmful to online consumers.
If you find an affiliate program that checks all the boxes, go for it. If not, I recommend staying away. After all, there's plenty of other fish in the affiliate marketing sea!
Top 10 Affiliate Marketing Programs in 2023
Disclaimer: Many affiliates come to MGID to run native advertising campaigns, so our unique position in the industry gives us insights and access to knowledge about which affiliate networks yield the best results. In other words, these are high-ticket affiliate networks we can vouch for and recommend to affiliate marketers in 2023.
Mobidea provides an experienced team of Business Development Managers, Affiliate Managers and Account Managers to help grow your revenue, expand your portfolio and extend your market reach.
As mobile pioneers, they are the first to market and release products in Europe, Latin America and many other regions around the world.
Type: Affiliate Network
Niche: Mobile Advertising
Minimum payout: $50
Pros:
Mobidea partners with established merchants such as Fluent, InnoGames and Alibaba Group
6,700+ active offers
3,450+ registered publishers
20+ verticals
Premium quality traffic and targeting
Cons:
Not ideal for desktop traffic
LeadBit is a mainstream affiliate network founded in 2013. It's considered one of the "big players" and is known around the world as a top choice for affiliates. The size of the network means it's not only reliable and trustworthy but also ripe with opportunities in a multitude of industries.

Type: Affiliate Network
Minimum payout: $30
Cookie duration: 14 days
Pros:
High commissions
24/7 customer support
Well-informed and experienced account managers
In-depth tracking and analytics for added insight
Cash flow support
Multiple tools to save you both time and money
Cons:
It's overly complicated and some of the functions can be hard to use
You can't decide when you get paid without signing up for a separate feature
MyLead isn't just another global affiliate network; it's your pathway to swift revenue generation, backed by a strong reputation. MyLead is committed to providing transformative solutions and unparalleled support, fostering success in affiliate marketing endeavors. MyLead's appeal lies in its effectiveness for seasoned professionals, offering a vast selection of over 5,000 affiliate programs with tailored rates for experienced users. With over 900,000 registered users, MyLead stands as a robust platform for affiliate marketers to thrive, empowered by a wealth of free affiliate tools.

Type: Affiliate Network
Minimum payout: $20

Pros:
Dedicated support and mentorship
Access to industry knowledge through blogs, ebooks, and more
Tailored rates for experienced users
Free affiliate tools
Low minimum payout threshold
Multiple withdrawal options
Cons:
Earnings are based heavily on performance
#4: CJ (Commission Junction)
This is the go-to network to find offers from various vendors. Many of the programs CJ partners with span across many different verticals.

Type: Affiliate Network
Minimum payout: $50 (Direct Deposit) / $100 (Check)
Cookie duration: 400 days
Pros:
Large selection of publishers in a multitude of verticals
Many CJ members are Internet Top 500 advertisers, which means they have a strong reputation with top quality products. As an affiliate, this makes your job easy!
Cons:
It's overly complicated and some of the functions can be hard to use
You can't decide when you get paid without signing up for a separate feature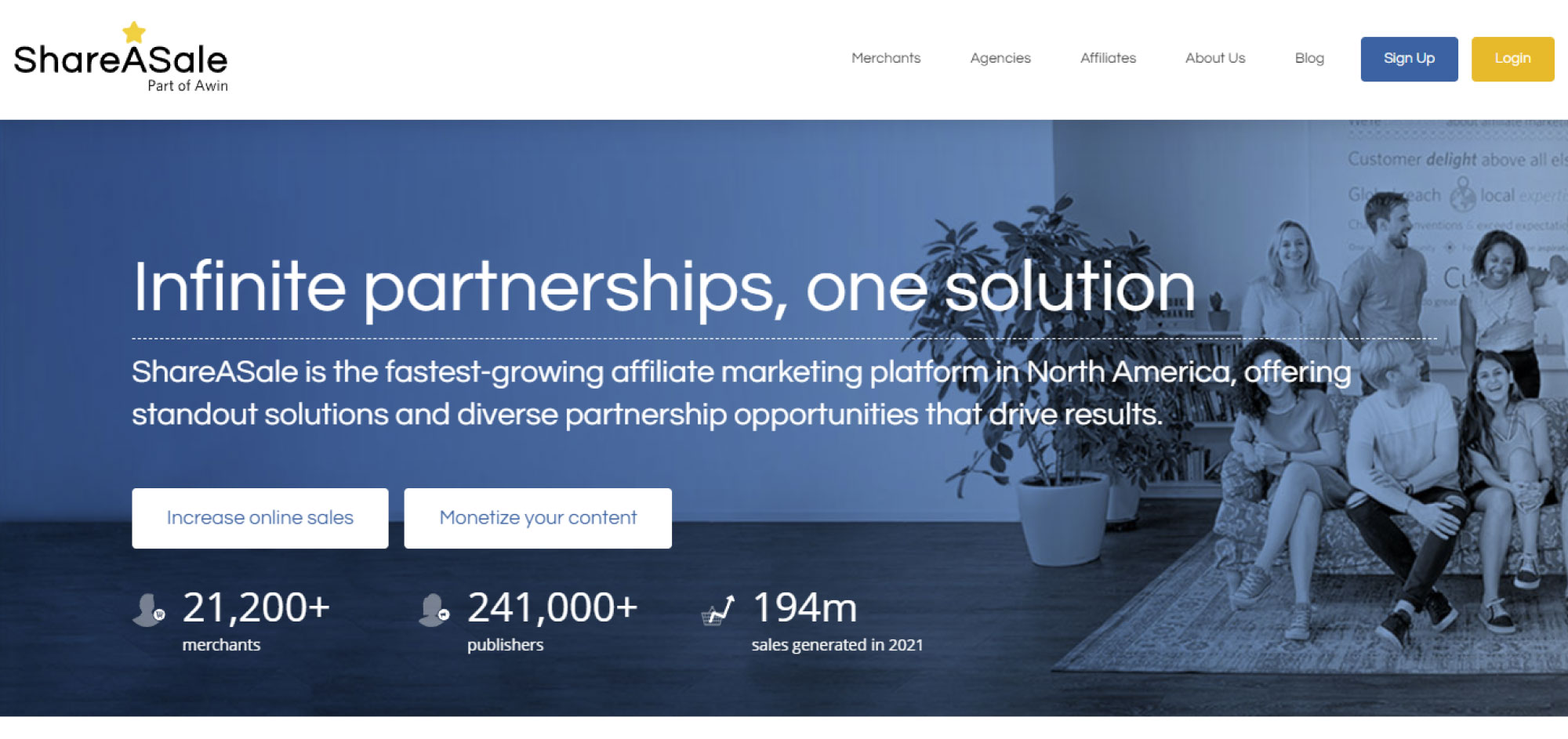 This network shares a similar business model to CJ (Commission Junction). However, ShareASale has more offers to choose from than CJ (6000 to 3000). The only reason it falls short is because it doesn't match Commission Junction's lengthy cookie lifetime.

Type: Affiliate Network
Minimum payout: $50
Cookie duration: 365 days
Pros:
User-friendly interface
Clear display of affiliate payments, important updates and merchant status
Advanced search functions to find exactly the types of affiliate programs you're looking for
Cons:
Outdated customer service interface
If you're a gamer, there's not much else to say — this is THE company for you. Razer is synonymous with gaming accessories and equipment. For every purchase you facilitate, you earn a 5% commission. And when we're talking about expensive gaming consoles, that 5% is a slice of a big cake.
Type: Affiliate Program
Niche: Gaming
Cookie duration: 30 days
Minimum payment: N/A
Payday: Once per month
Pros:
Established brand with quality products
Potential to earn even more commission (10%)
Cons:
Strict entry requirements into the program for new affiliates
This company is known mainly for manufacturing gaming mouses and keyboards, yet they do so much more. Logitech is a more mainstream company than Razer, which should make promoting their offer easier. Their commission rate is only one percent lower than Razer's.

Type: Affiliate Program
Niche: Gaming
Cookie duration: 30 days
Minimum payment: N/A
Payday: 45 days after the end of each calendar month
Pros:
Offers expensive products, which means more commission with each sale
No minimum payout threshold
Mainstream company with well-known quality
Cons:
Lower commission than other similar programs
Limited to one vertical (gaming and computers)
Part of the Dell empire, this company specializes in making gamer-oriented laptops. Their products are expensive, so even with a relatively low commission range of 1-6%, you can potentially make a killing as an affiliate with Alienware. The program can be found on CJ Affiliate Network.

Type: Affiliate Program
Niche: Gaming
Cookie duration: 3 days

Pros:
Quality gaming products that are in demand
Short cookie duration
Cons:
Commission maxes out at 6%
Nvidia is about all things computer technology, from AI to gaming. They have a wide range of high-ticket products, and you can earn 2% commission for each sale. Plus, the 90-day cookie lifetime leaves plenty of wiggle room to finalize a deal.

Type: Affiliate Program
Cookie duration: 90 days
Minimum payment: $50
Payday: Once per month
Pros:
High earning potential
Timely pay
Two additional membership levels that offer more rewards and benefits
Cons:
Limited to one vertical (computer tech)
Like with all programs from the web hosting vertical, commission is fixed for every subscription plan at WPengine. They have a minimum payout value of $200, which is nothing compared to the staggering $7,500 maximum. The half-year cookie lifetime for WPengine is excellent and the brand is well-recognized.

Type: Affiliate Program
Cookie duration: 180 days
Minimum payment: $50
Pros:
Cons:
High minimum payout (may take a while to withdrawal earnings)

This list of the top 10 affiliate marketing programs in 2023 gives you plenty of options to build your business this year. I've tried and had success with the vast majority of these programs and networks, so the earning potential is certainly there. I encourage you to pick one, try it out and see what kind of results you get.
Pro tip: But remember — choosing any single program doesn't mean you're stuck with it forever. You can switch between plans and networks as much as you want. In fact, I recommend you experiment with different programs and opportunities. You never know which ones will work until you try them!
Top 5 Affiliate Marketing Programs for Beginners
For a quick, simple start as a newbie affiliate marketer, I've created a bonus list of the best affiliate programs for beginners. Not only are these options great for getting your toes wet but they're also beneficial for any stage of your career in affiliate marketing.
ClickBank is a well-known affiliate program that sells exclusively digital products. Because of this, their commission for an affiliate marketer is very generous (40%) and it's calculated not as a percentage of what ClickBank earns (which is 7.5% plus $1) but as a percentage of the offer owner's revenue. Additionally, the payout is made twice a month, which is always welcome.

Cookie duration: 60 days
Minimum payment: $100
Payday: Every Friday

Although their UI falls behind the current design standards and may be difficult to master, they have many tools that are helpful for newbies. On top of that, the offers are all beginner friendly.
As one of the biggest affiliate programs on the planet, Amazon Affiliates has approximately 12 million offers. That's right — 12 million! With such a massive amount of products to choose from, this program is a gold mine of money-making opportunities for beginner affiliates.

The only downside is the program's short cookie lifetime and the fact that Amazon has recently sliced its commission rates by half.

For more information, check out our articles on advertising on Amazon and Amazon Associates program alternatives.

Cookie duration: 1 day
Minimum payment: $100
Payday: 60 days after the end of the month
With even more offers than Amazon, it seems eBay would be heaven for an affiliate marketer. However, because eBay's auction model is used for the majority of sales, as well as the short cookie lifetime, this program is far from perfect. It's still a great option for beginners, though!

Cookie duration: 1 day
Minimum payment: $10 (Direct Deposit) / $100 (Check)
Payday: End of the month
SEMrush is the number one place to go for all online marketers and content editors. But they are not the only ones that can benefit from it. SEMrush offers a recurring affiliate program with 40% commission rate and rewards on various user activities (trials, sign-ups).

Cookie duration: 1 day
Minimum payment: $10 (Direct Deposit) / $100 (Check)
Payday: End of the month
The Dating vertical is a typical starting point for most affiliates. Offers from this niche are easier to promote than, for example, web hosting services that may require using some tech language. In addition, Match.com is a recognizable brand.

Cookie duration: 1 day
Minimum payment: $10 (Direct Deposit) / $100 (Check)
Payday: End of the month
A Note on Commission & Payments
It's important to recognize that for many affiliate programs, payments aren't always timely. Some programs will pay out 30 days after you make a sale — for others, you may have to wait as long as 90 days to see your earnings. If you're planning on turning affiliate marketing into your full-time income stream, make sure you understand the payment timing of your chosen programs so you always have money coming in consistently.
Closing Thoughts
All of us here at MGID are rooting for your success as a new affiliate marketer. Not only do we love seeing new talent in the game, we're also financially invested — when you make a profit, so do we! That said, you can count on us to provide all of the very best information about affiliate marketing in this article.
The better we can equip you to succeed, the more money goes into your pocket (and ours, of course!).
Take it from me, a seasoned affiliate marketing veteran — this is an incredibly rewarding career (or side hustle!) if you do it right. It all comes down to the tools you use. If you do your research and go after reputable programs and networks that offer plenty of earning potential, you'll see results in no time.
So good luck, and get earning!


Affiliate Marketing Programs FAQs
#1: How to make money with affiliate marketing programs?
The affiliate marketing process is simple: if you can help bring traffic to a business and drive sales, that business will reimburse you with a commission. The biggest piece of the puzzle to making money with affiliate marketing programs is to build up your own sources of traffic. Once you have an audience, join an affiliate program and you'll have permission to sell a merchant's products or services for a cut of the profits.
#2: What are the best PPC affiliate marketing programs?
The best PPC (pay-per-click) affiliate marketing programs are the big mainstream options like SEMRush, eBay and Amazon. Since these are such large companies, they have a wide variety of potential products or services to sell as an affiliate. They also have more money to spend, which generally means larger commissions and a higher cut of profit in your pocket.
#3: What are the best CPA marketing programs?
CPA affiliate marketing is performance based. That means instead of getting paid just from sales, you're also getting a cut when you drive traffic to sign-up for a list, request a quote or complete a similar lead-generating action. The best CPA programs include MaxBounty, CPATrend and FireAds.